Long Text Field
Bank De-risking
Long Text Field
ARCS has a strong focus on mitigating negative effects caused by the bank de-risking procedures that affect member's work abroad. Delays in money transfers, requests, and screenings of additional documentation along with account closures and refusals have undermining effects on humanitarian and relief activities of U.S.-based nonprofit organizations.
Block Image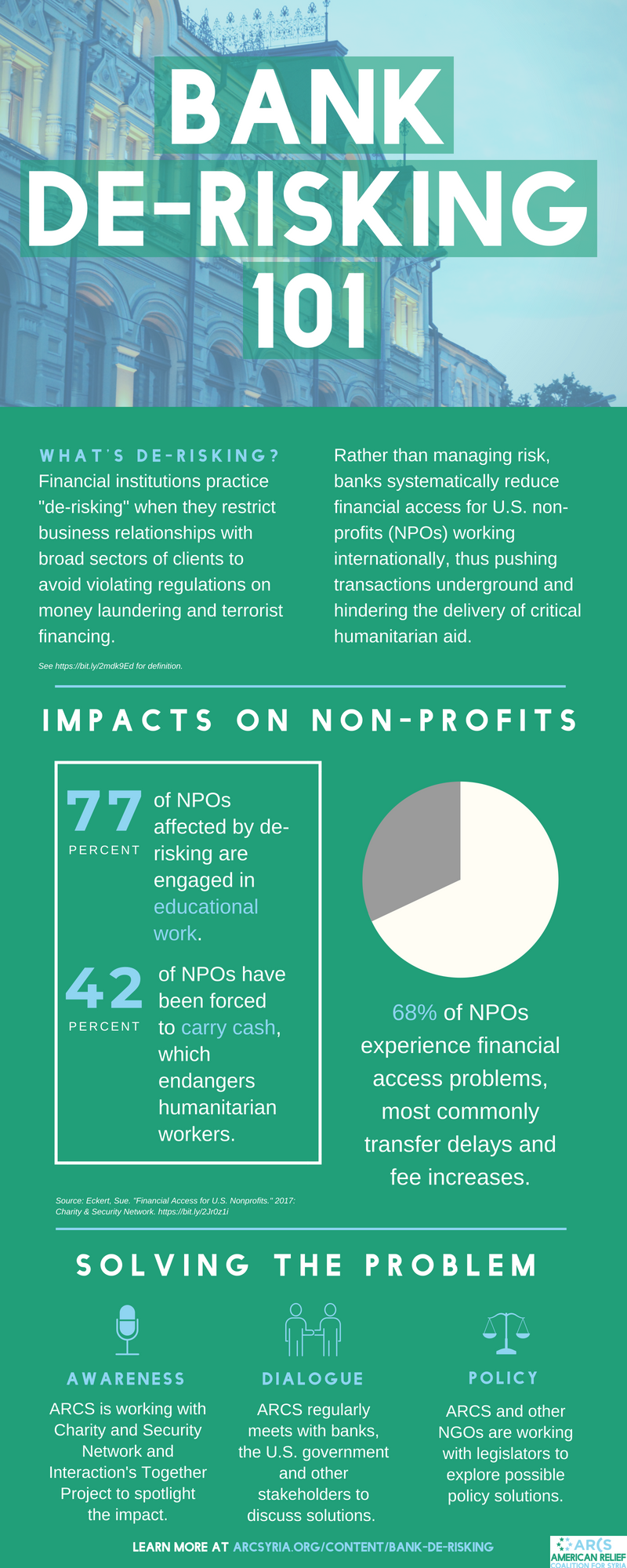 Long Text Field
According to the report produced by Charity and Security Network, de-risking refers to financial institutions terminating or restricting business relationships to avoid rather than manage risk. The report findings indicate that:
2/3 of all U.S. nonprofits that work abroad are having financial access difficulties
Delays in wire transfers, which can last up to several months, are the most common problem, affecting 37% of nonprofits
15% of nonprofits report having these problems constantly or regularly
One-third of NPOs have experienced fee increases, and 26% have faced additional, unusual documentation requests
Transfers to all parts of the globe are impacted; the problem is not limited to conflict zones or  fragile and failing states
NPOs, categorically treated as high-risk, are sometimes forced to move money through less transparent, traceable, and safe channels as a result of delays in wire transfers and requests for additional documentation. When money cannot be transmitted in a timely manner, 42% of nonprofits report that they carry cash.
The full report and findings can be accessed here.
Not only are humanitarian efforts affected by the bank de-risking issue, but it creates the adverse effect in countries affected by these regulations and it is evident that the solution has to be found in the near future.
At ARCS we are working on a number approaches to improve the de-risking situation:
Working closely with the World Bank, United States Government, nonprofits, academia and banks
Researching and reporting on the effects of bank de-risking on humanitarian activities
Informing, advocating and spreading the word about the impacts of de-risking