Long Text Field
Temporary Protection Status for Syrians
Long Text Field
The American Relief Coalition for Syria actively works with immigration, refugee, and human rights organizations to create a sound call for renewal and re-designation of Syria for Temporary Protection Status (TPS). As humanitarian organizations working directly on the ground inside Syria, ARCS maintains that Syria meets all required criteria for Temporary Protected Status designation. 
Block Image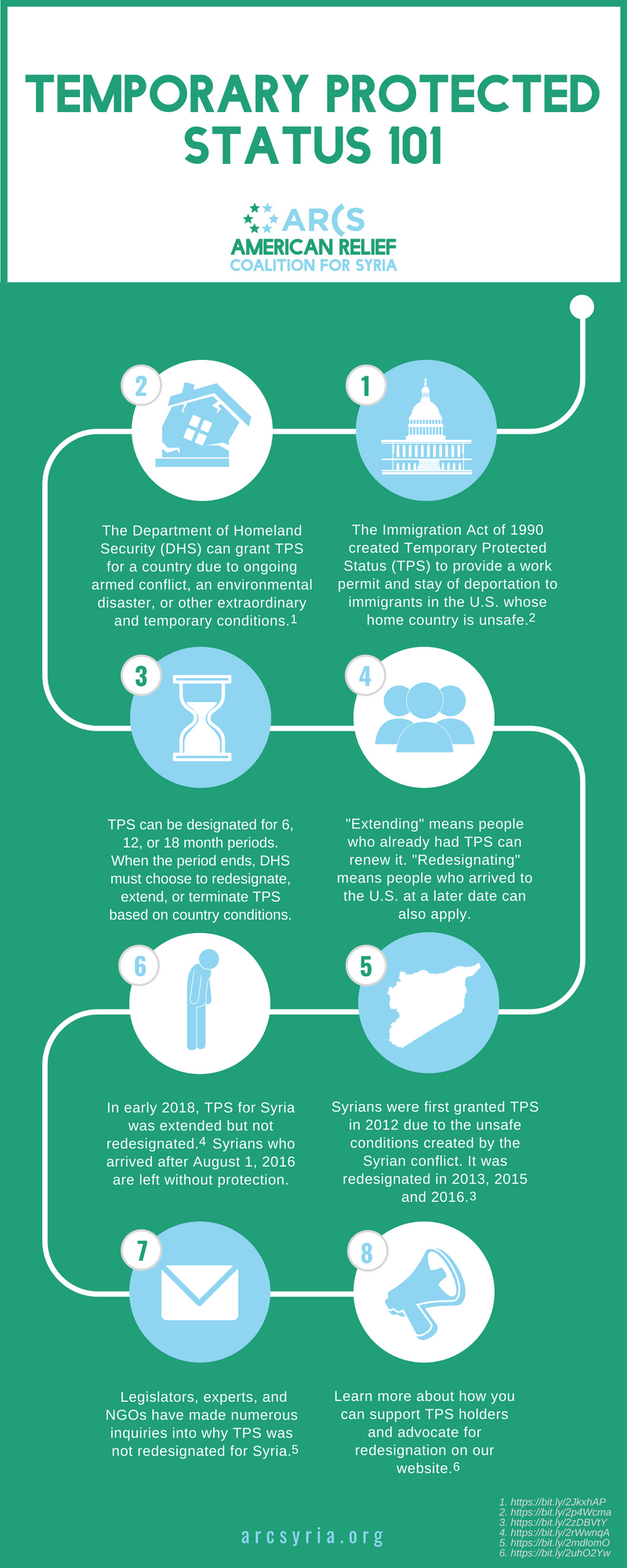 Long Text Field
What is TPS? ​
A foreign country can be designated for TPS when conditions prevent the safe return of its nationals. If the Department of Homeland Security (DHS) designates TPS for a country, its nationals who are already in the United States can receive TPS for a period of 6, 12 or 18 months. If the unsafe conditions still exist at the end of this period, DHS extends and redesignates TPS. Extending allows current TPS holders to renew their status, and redesignating allows newer arrivals to apply for TPS for the first time.
Block Image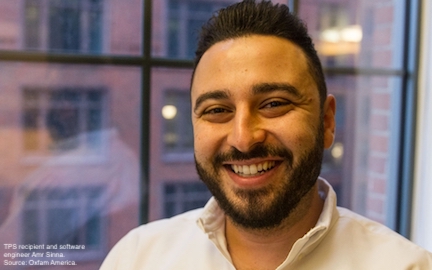 Long Text Field
Who are TPS holders?
As of January 2017, there were 325,000 migrants from 13 TPS-designated countries. TPS holders are deeply integrated into their communities in the United States and have hundreds of thousands of children born in the United States.
TPS holders make a substantial contribution to the economy. Ending TPS for El Salvador, Haiti, and Honduras alone is predicted to lead to a $45.2 billion reduction in GDP over a decade. Furthermore, according to a small-scale survey conducted by ARCS, Syrian TPS holders are an extraordinarily well-educated group, with 75% of Syrian TPS holders holding graduate degrees or higher.[1] Previous studies show Syrian-Americans exhibit extremely high rates of education and business ownership.
As non-immigrants, TPS holders do not receive settlement aid and are ineligible for public assistance benefits, including SNAP, TANF, SSI, and Medicaid (with the exception of Medicaid for emergency conditions). However, they do pay taxes and make a significant contribution to Social Security and Medicare.
Read the stories of four Syrian TPS holders from ARCS partner Oxfam, or watch this video of a TPS holder from ARCS member Syrian Community Network.
Block Image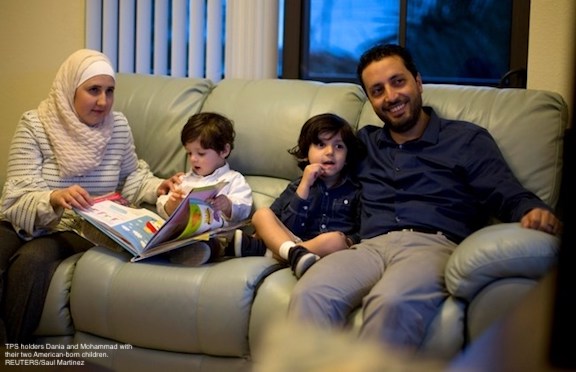 Long Text Field
What is Syria's TPS status?
DHS designated TPS for Syria in 2012 due to the extraordinarily unsafe conditions created by the conflict. Before 2018, DHS both extended and redesignated Syria's TPS status every time it was set to expire.
In 2017 and early 2018, ARCS advocated for DHS to follow this precedent of extending and redesignating TPS. As humanitarian organizations working on the frontlines in Syria, we understand the challenges and complexities on the ground, and we believe that limiting TPS for Syria does not benefit anyone. The estimated 5,800 Syrians with TPS status should not be forced to return to an unsafe and unstable country, as many of them have been here for years. 
In early 2018, DHS chose to extend TPS for Syria, but did not redesignate it. Though thousands of Syrians can renew their TPS, any Syrian who arrived in the United States after August 1, 2016, is not eligible for TPS.
In response to this decision, ARCS collaborated with other Syrian-American organizations to release a joint statement: "This decision constitutes a break with practice, which has consistently seen both extension and re-designation every 18 months for TPS for Syria since the initial designation was made in March 2012. With the war in Syria ongoing, mass atrocities continuing, and humanitarian travesty overtaking the region, we, as Syrian American organizations, are extremely concerned that any premature repatriation of Syrians could be tantamount to a death sentence." Read the full press release here.

[1] Note: Survey received 24 respondents and is not representative of all Syrian TPS holders.
Block Image

Long Text Field
What is ARCS advocating for today? 
In light of evidence that 2017 was the worst year of the Syrian crisis and recent revelations that 2018 is even worse, we continue to urge DHS to redesignate TPS for Syria.
If you'd like to join our cause, call your senators and representative to tell them you disagree with the decision not to redesignate TPS for Syria and demand a legislative solution that provides a path to citizenship for TPS holders!
For more information, check out:
A January 2018 joint letter from eleven senators urging DHS to extend and redesignate TPS for Syria.
CLINIC's report, "No Safety in a Warzone: Why TPS is Needed for Syria," which describes the current conditions in Syria and the contributions of Syrian TPS holders.
The United States Holocaust Memorial's report, "Is the Worst Yet to Come? Ongoing Mass Atrocity Risks in Syria," on the crimes against humanity still occurring in Syria.
To view the status of all countries with TPS, please see the chart below or visit https://cliniclegal.org/tps.
Block Image