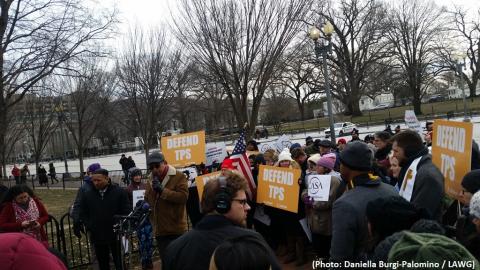 At the end of January 2018, the Department of Homeland Security (DHS) is set to decide if they will cancle or continue Temporary Protected Status (TPS) for Syria. TPS is a program that allows thousands of Syrians to live and work legally in the United States. 

In response to the impending decision, a letter was sent to DHS from the American Relief Coalition for Syria, its 13 member organizations, and many other INGOs working on the ground in Syria. The letter, delivered on Friday, January 19th, called for the extension and redesignation of TPS for Syria. The letter is from humanitarian organizations with insights of the complexities on the ground.

The letter explains: "The case for the renewal and re-designation of TPS for Syria is a clear one. The estimated 5,800 Syrians with TPS status in the United States, should not be forced to return to an unsafe and unstable country. Many of them have been here for years, working and paying taxes, but they remain eager to return home as soon as it is safe to do so."
You can read the full text of the letter through the link below.
It comes after an additional letter from over 50 organizations, including Syrian American, faith, human rights, immigration, and refugee organizations, was also delivered to DHS last week in support of TPS. ARCS also signed on to that letter, and has been leading on a number of other initiatives to support TPS for Syrians, including but not limited to, the submission of a legal petition to the Department of Homeland Security, congressional advocacy on TPS, grassroots education and awareness, and community and legal support for TPS-holders.